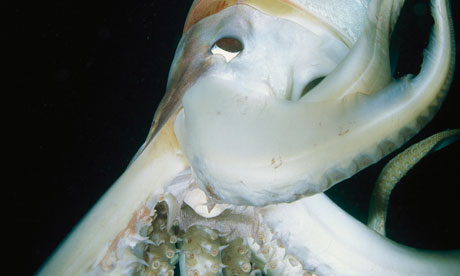 There is a lot being said in this piece and you should read it all.
Although protection of the opposite sex in public spaces is often taken to be a male prerogative, women often try to protect men from violence through quiet acceptance of harassment. If I'd been on my own last Saturday, I'd most likely have turned around and hollered horrors at squid-boy until his ink ran dry. By the time I'd finished telling fish-features how stinky he was, he'd have been begging for Oldboy to put him out of his misery. I'm confident behaving like this on my own because, while I'm likely to be groped in public (not even thick leg hair and Dunlop sandals can put some men off), it's a significant boon of femaledom that I'm pretty unlikely to be beaten up.
[...]
The vast majority of men who engage in street harassment in London are under no illusions that their advances are socially acceptable. So why do they think they can get away with it? As strange as it sounds, I think that part of the reason lies in the way men and women protect each other. Many men feel they should protect women from unwanted sexual advances, but unfortunately this ultimately produces negative effects. For example, the more men walk women home to protect them, the more the sight of a lone female in the streets attracts opprobrium. Erasing female presence in public spaces makes those spaces less female-friendly and impedes the mobility of all women in society. Similarly, a man's protective urge to square-up to a perpetrator may mean a victim is less likely to say anything next time.
[Read more: commentisfree]
Related: